A Brighter,
Smoother Complexion is Yours
Dead skin cells and fine vellus hairs on the face can interfere with makeup application and leave your complexion dull-looking. A simple, painless treatment known as dermaplaning can dial up your glow and soften your skin with results visible the same day.
Dermaplaning at
The Refinery
At The Refinery medical spa in Georgetown, TX, dermaplaning is one of our most highly requested services. Our gentle, painless technique will bring out the best in your skin so you can radiate with newfound confidence.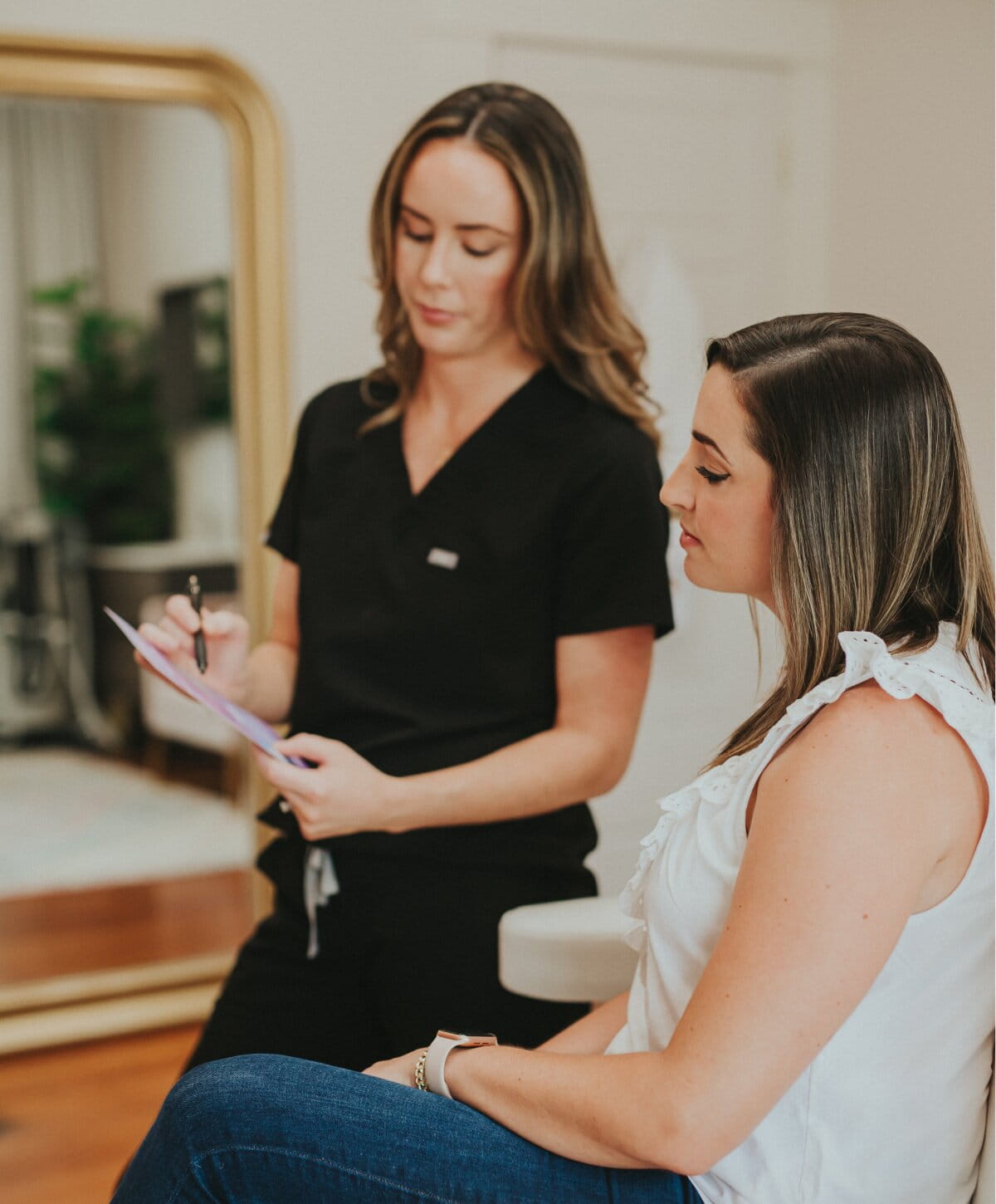 What is
Dermaplaning?
Dermaplaning is a quick outpatient treatment for dull skin and vellus hair removal. A sterile scalpel gently scrapes away the dead cells of the stratum corneum, which is the outermost skin layer. Since the blood supply no longer nourishes the dead cells, there is absolutely no discomfort or painful sensations as the blade passes over the skin. dermaplaning also shears off the fine baby hairs that give the face a fuzzy or dull appearance. The result is a rejuvenated, glowing complexion.
What can Dermaplaning
do for me?
dermaplaning is incredibly popular since it creates a smoother canvas for makeup application and enhances the skin's natural glow, even when bare-faced. Removing the dead skin layer accelerates cell turnover and encourages blood circulation for a megawatt glow. Best of all, it is suitable for nearly all skin types and tones and comes with no downtime!
Am I a candidate for
Dermaplaning?
If you have a lackluster complexion, dull, rough skin, or peach-fuzz on your cheeks, chin, upper lip, or forehead, you could be a prime candidate for dermaplaning in Georgetown, TX. Dermaplaning works on all Fitzpatrick skin types, meaning nearly everyone can benefit from this quick, highly effective in-office treatment. While some medical spa services are unsuitable for pregnant or nursing women, dermaplaning is one of the few aesthetic procedures that are perfectly safe for mothers and moms-to-be.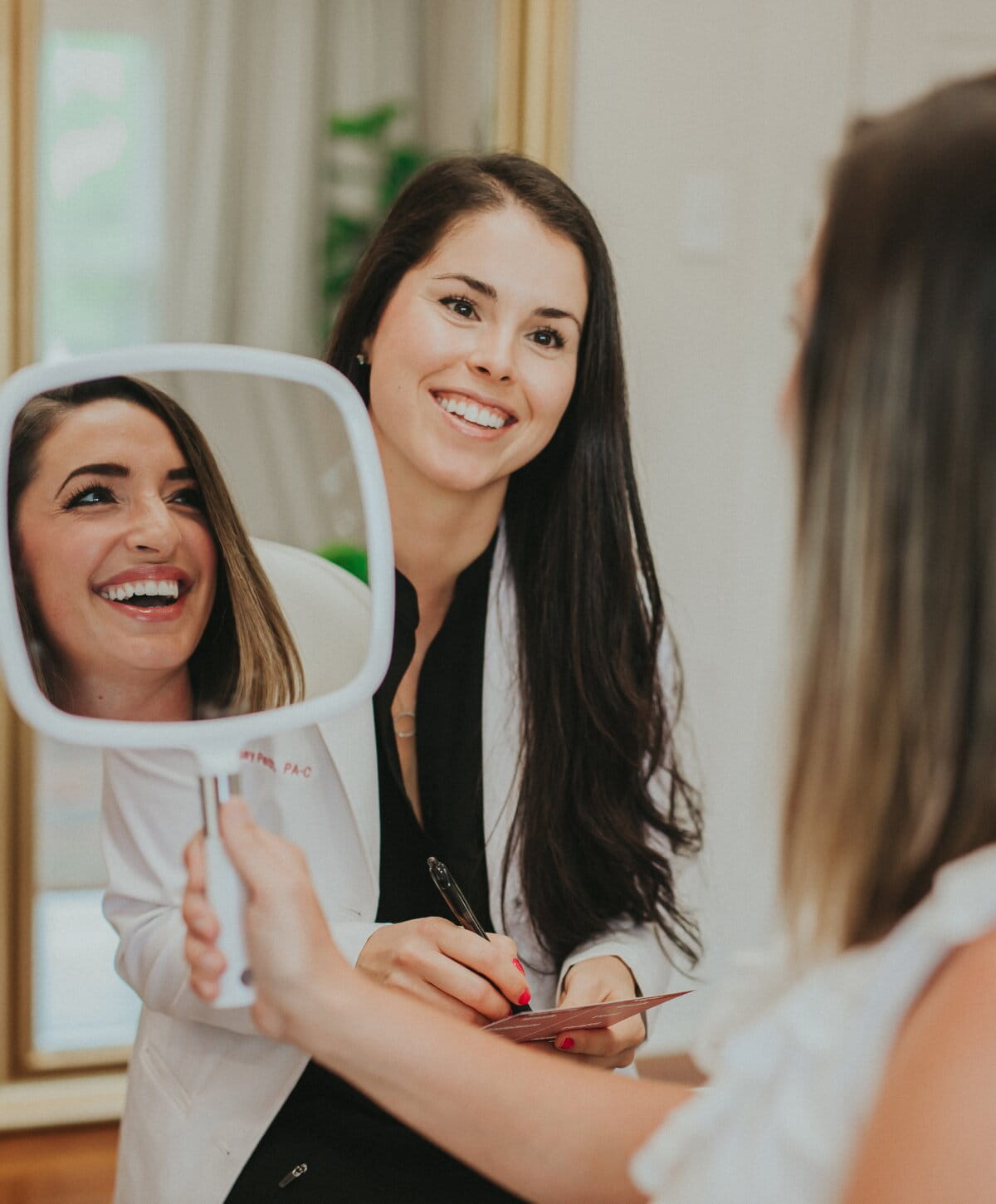 Consultation and
Preparation
Our aesthetic professionals or board-certified physician assistants will ask about your skin goals and conduct a skin assessment to determine if dermaplaning or related services are in your best interest. Please avoid sun tanning, sunless tanners, waxing, plucking, shaving, and aggressive skincare products for a week or two before your appointment.
Results, Recovery, and
Aftercare
Dermaplaning results in an instant glow with no downtime. Your skin may be a little red or sensitive for a few hours. Removing the dead skin layer can mean your skin is prone to sunburn, so be sure to wear mineral sunscreen.
For best results, avoid fragrant and chemical-laden skincare products that can cause irritation, as well as exfoliating scrubs and chemical exfoliants. It is also wise to skip the sauna or any activity that leads to heavy sweating for 24 hours, as perspiration can cause a slight, temporary stinging sensation. You can repeat dermaplaning as often as needed to maintain a baby-smooth, radiant complexion.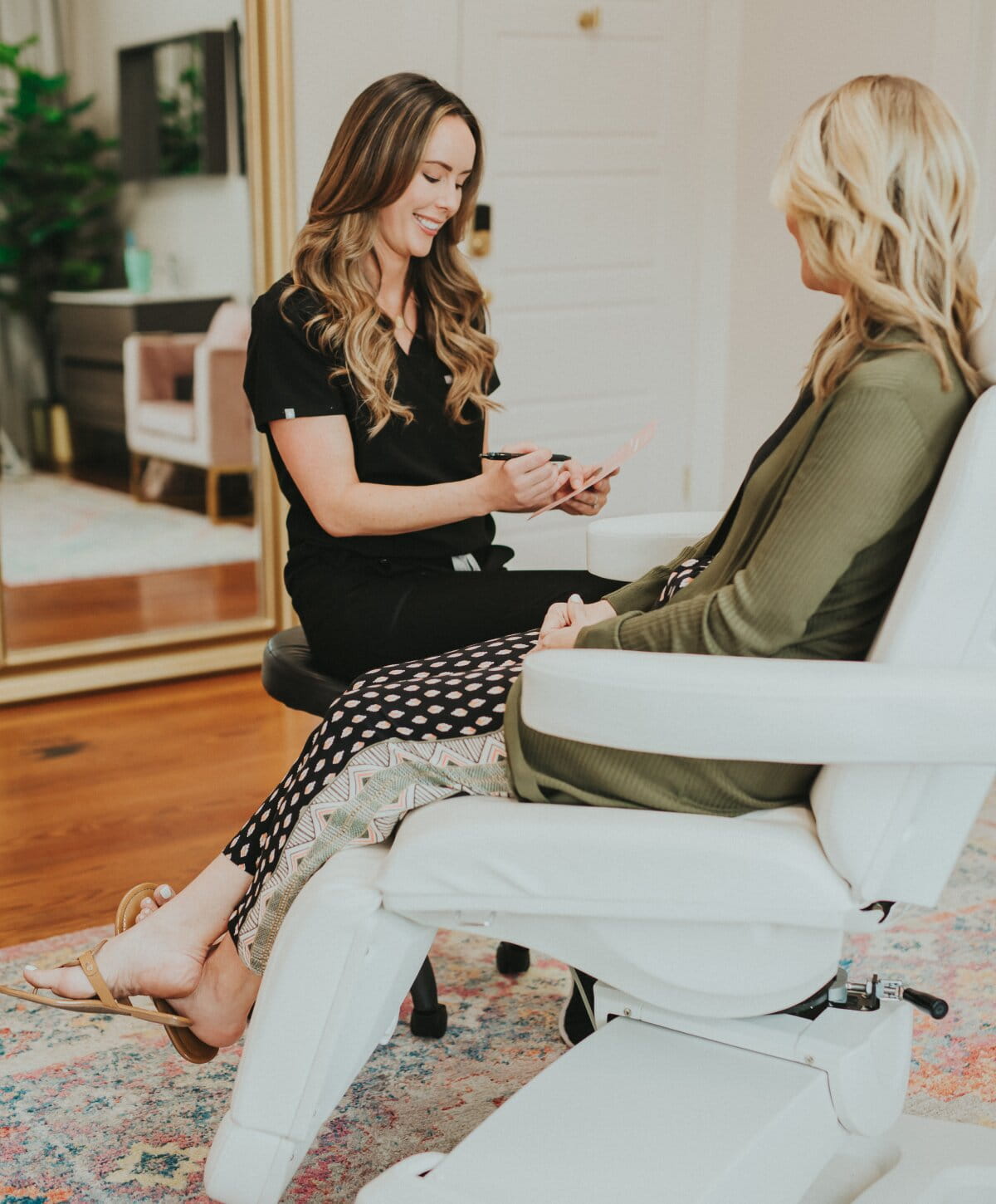 Why choose
The Refinery?
At the Refinery Medical Aesthetics, we offer a gorgeous, boutique atmosphere where our clients feel pampered. Our highly knowledgeable medical staff is well-versed in all things skincare and beauty, but we explain our services in a way our clients understand. Our friendly, patient-first approach and broad knowledge of aesthetic technology are just some reasons we have earned five-star reviews.
Learn More About Dermaplaning in Georgetown, TX,
at the Refinery Today
We welcome you to meet our world-class aesthetic providers today to learn about professional dermaplaning in Round Rock. Give our office a call at (512) 677-9218 or fill out the contact form to arrange your private consultation online today!
Dermaplaning
FREQUENTLY ASKED QUESTIONS
Is Dermaplaning good for your skin?
Dermaplaning assists in speeding up cell turnover and encourages blood circulation for a revitalized glow.
Is Dermaplaning painful? What does Dermaplaning feel like?
Since the skin cells removed during dermaplaning are already dead, there is no pain or discomfort to speak of.
How long do the results of Dermaplaning last?
The results of dermaplaning become apparent right away and last up to a few weeks. Repeat maintenance is suggested to keep the skin soft, smooth, and hair-free.
Will my hair grow back thicker after Dermaplaning?
Dermaplaning does not damage or remove the hair follicles, so there is no risk of the hair growing back thicker or darker.
How much does Dermaplaning cost?
The beauty of dermaplaning is it is very affordable, so it can be performed solo or added onto other aesthetic services without breaking your budget. Call us today to receive your personalized skin care plan and price quote!
A Natural Approach to Aesthetics
We understand what it feels like to wake up and not feel confident in your appearance. We also understand the concern that aesthetic treatments will change the way you look. At The Refinery we want you to feel confident in our promise to provide you with the most natural results possible. Our aim is not to change the way you look, but to enhance your already beautiful features. We all hope to age gracefully. At The Refinery we focus on prevention to preserve your youthful appearance as long as possible. We have found that prevention in combination with evidence-based treatments gives our patients the ability to "feel like themselves again". Find out how The Refinery can help you feel like yourself again with a no-obligation consultation today. During your in-depth, comprehensive appointment, we'll listen to your story, explore your options, and help you find the best way to refine your look.